So, what's a fangirl to do after being sick on a trip and after a fanmeeting? Well, what else, but blog! The following was previously published at my personal blog. Many thanks to early commenters!
It was my first time ever to fangirl half the world over and it was quite an interesting experience. The Tokyo humidity was making it a rather very peculiar day and I can feel that everyone's moods, the actors and audience, were dampening because of the heat and muggy clouds. Well all that aside, I want to try and remember everything that happened but since I didn't write notes I just want to write about the general feeling I had observing these two people – Jang Keun Seuk and Park Shin Hye. After all, I understood neither Hangul or Nihonggo, so I was basing it all on body language.
So before I spazz, criticize, observe, analyze, I must first give credit where credit is due. Many many thanks to Mee Xiong and the mods and admins of Park Shin Hye International Community (http://www.parkshinhye.org) for letting me and my mom take two of the tickets for the fanmeeting they had secured. I'm sure there must be other people who would've wanted to watch both sessions but had to give it up for my mom and me. So, for that I will be eternally grateful — for the chance to meet new friends and for the opportunity to experience this at least once in my lifetime.
And here are my observations —
– Park Shin Hye and Jang Keun Seuk were both beautiful people – inside and out. As I've always observed with Shin Hye, she is a very transparent person – can easily radiate warmth, sweetness in the room around her. I found Jang Keun Seuk to be jovial and does exhibit a certain leadership in his interactions with Shin Hye.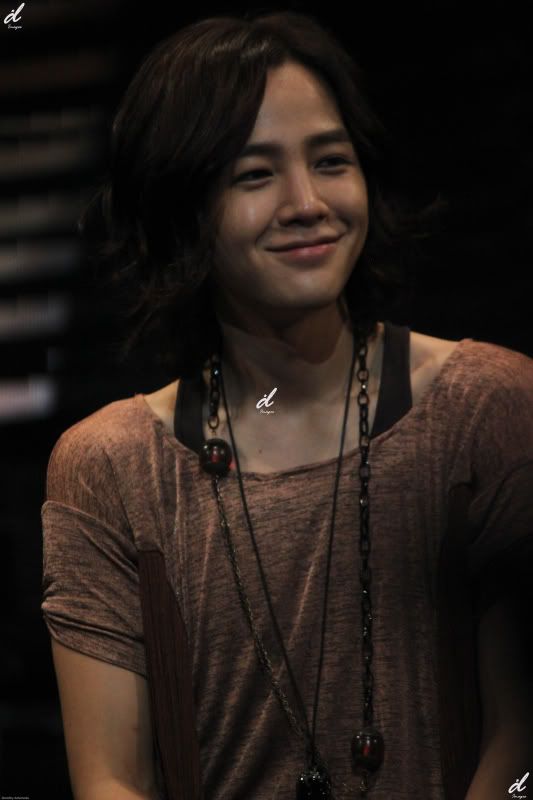 – Singing Still in the intro, Park Shin Hye came in with Jang Keun Seuk. She was a bit shy at first but was trying her best to get out of her shell and mingle with the fans. I felt there was something that happened in that 2 PM session or prior the 2 PM session that rendered Shin Hye out of her element. She was not super perky but she did try very hard, and there were emotional vids that can bring her close enough to tears.
– Jang Keun Seuk was being a gentleman throughout the whole session. It seemed as if they were close enough to each other that he knew and understood what she was going through and was helping hold her up to be at her best for this outing. Keun Seuk can be transparent too as we all know, but he didn't show any sign of being annoyed. Very supportive. Every inch a leader.
– Was there distance between the two friends? I didn't feel it in this session. It seems they have a very solid friendship where one can hold the other up as needed. The sweet parts where Keun Seuk would tease Shin Hye or when they would spazz together over videos of great scenes show me that there's a unique bond between them.
There was a part after her dance number when she looked like she was saying that her long boots was making it difficult for her to dance. And Keun Seuk was pointing out at her legs. Since I don't understand what he said, I took the body language to say that Keun Seuk was teasing her for being shy to show off her legs. That kind of banter really lit the room up.
-Did they reveal anything about what their relationship was exactly? This is where I sensed the most tension. The crowd in the auditorium was majority Jang Keun Seuk's fans, and as I tweeted it felt like the crowd was 9:1 JKS fans vs. Shin Hye's fans. Maybe that's an exaggeration but it did feel like that. Yet, even in the midst of Keun Seuk's very loyal fans, he was looking out after Shin Hye. Letting her speak first when the questions were directed at both of them. Listening to her when she spoke and answered questions for her. Played to the tune of the same music with her when they were watching the scenes, and at times even spazz confidently for the both of them, even if Shin Hye was being careful.
I think she had good reason to be careful since Keun Seuk is very adorable and definitely a ladies' man. Showing lots of affection towards each other was sure to attract the ire of some uncompromising Eels (term for Keun Seuk's fans). So, Shin Hye was trying to play safe. Keun Seuk played along for the most part, but when appropriate stood up for the both of them to enjoy reminiscing memories from the drama or in shipper-language, to show the world where his heart belonged. He provided her the necessary confidence boost whenever she looked "off" during the session.
-Singing "What Do I Do?" – I had a feeling this was a very important song to sing for the perfectionist Jang Keun Seuk. Coming on the heels of a rough attempt at this song from the Hong Kong FM last week, he wanted this particular version to be perfect. He had reason to because they were made to re-enact the drama finale after his singing. It was a delight for the fans – his coming off-stage to meet Shin Hye in the audience.
-Individual performances in the 2nd half. I am proud of Park Shin Hye in her particular medley of performances. She danced gracefully. She sang like a nightingale. She was glowing. But I did see her eyes being a little nervous doing her performances. But during her solo interview after singing Lovely Day, the confident Shin Hye was in the room. She answered the questions in this warm, feminine way she always did in interviews while holding her head up as if she knew what she was all about.
-One thing I wanted to note is the choice of wardrobe for Park Shin Hye in the 1st and 2nd act. I didn't see Mi Nyu or Mi Nam for the most part, instead I saw Jang Keun Seuk's ideal girl. If you've been closely following this couple, you would know what I mean. Shin Hye was ever present as this renaissance-like, feminine, wavy haired girl that attracts Keun Seuk. I thought that if wardrobes meant something for couples, this could be your confirmation. The stylist made sure that in this outing the Keun Seuk-Shin Hye shipping crowd will remember that ideal picture. And if they are not genuinely in a close relationship, I wouldn't understand the need to do that.
-Keun Seuk's swollen wrist and Shin Hye left to high-five the fans. Although I do believe the Keun Seuk wrist thing, I also thought that it was good strategy for Shin Hye to interact with the crowd. Although some rude uncompromising Keun Seuk fans left and opted to miss the opportunity to shake her hand (good riddance to them), I thought that Keun Seuk taking a backseat for this fan interaction was something only a great friend would have suggested. In Shin Hye's first international outing and with the disproportion in fans to consider, Keun Seuk took the high road by opting out. It gave Shin Hye a chance to shine and be in touch with her fans and others who can be her fans. And she did not disappoint, she was very pleasant high-fiving people and shaking her fans' hands (myself included). The "Thank You" in English she gave me as she shook my hand was a super treat. It made all the humidity and the exhaustion and the trouble all worth it.
So, was Shin Hye sad? Well, maybe photos I took were from the wrong angles, but her eyes do give away a little bit of that vibe in photos and videos. Probably tired from Cyrano Agency shooting. Probably not liking the humid weather (I can understand this!) But if there was a legitimate sadness about it, I would probably attribute it to the need to reminisce some memories she comfortably tucked away. If you all remember, she had some cooling off period from her Go Mi Nam character early in the year. Likely at that time, she didn't know she would be asked to relive it somehow again six months later. And perhaps the memory of that struggle dampened her mood. Yet, she is quick to pick up on her feet as she felt secure around Jang Keun Seuk — like someone respected, adored, understood.
Overall, for a first fan meeting amid annoying weather in a foreign land with a foreign language, this has been a memorable experience worthy of 4 stars (I'd give it 5 if I didn't have gripes, but I did and I don't like to talk about gripes).
Will I do the same craziness again? (As my mom's eyes read as she saw me crazily spazzing right after my camera got whisked away for disobeying rules)
Without batting an eyelash, Yes.
After taking a few breaths to think straight, yes, but I must apply lessons learned for the next one.
Park Shin Hye and Jang Keun Seuk, for being beautiful, for doing beautifully to make this a worthwhile experience, kamsahamnida!
Tokyo, you've been rough, but not entirely forgettable. You've taught me a lot. And for that, I'll forever associate you with being a fan, being crazy, taking risks and going out of comfort zones. And if you know me, that's not entirely a bad thing.
-06.27.10-